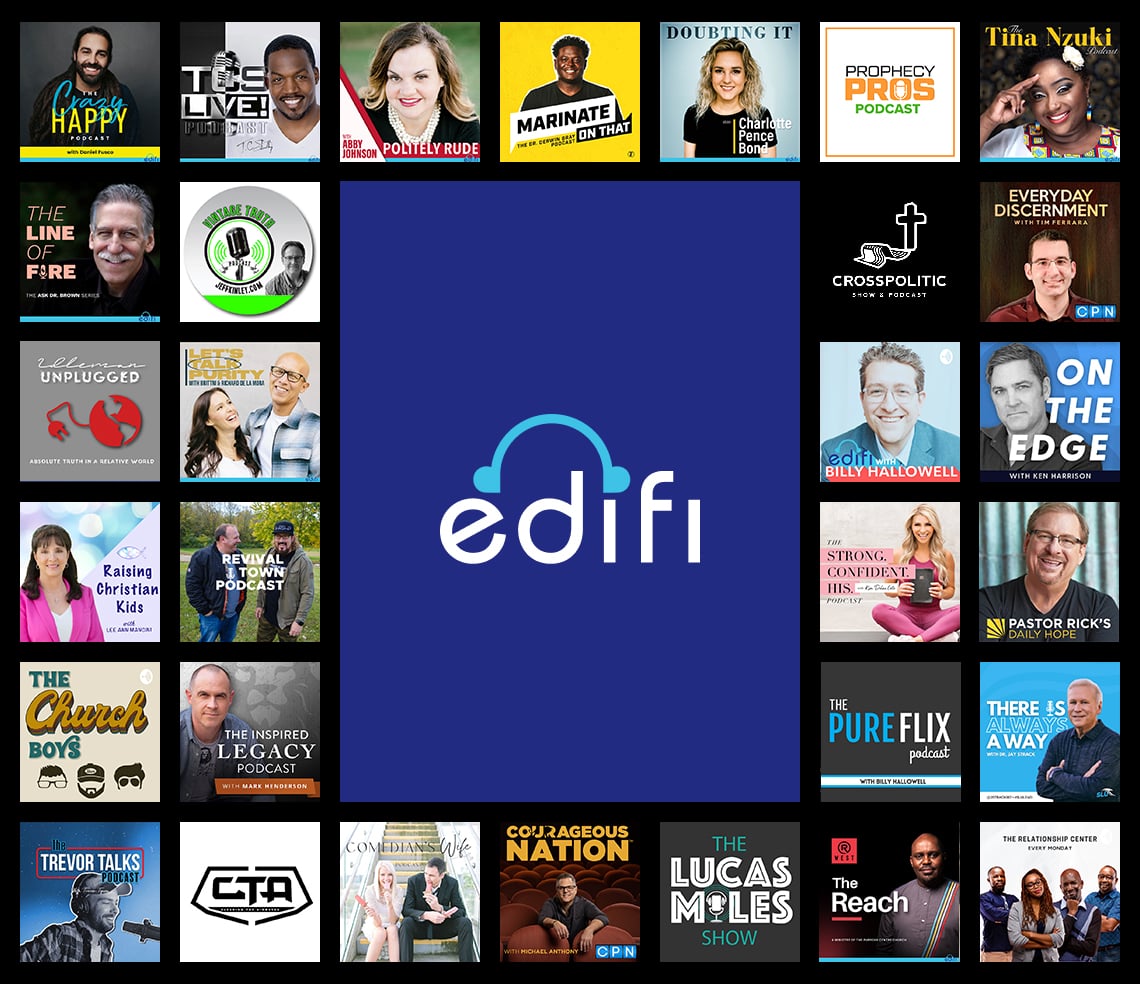 Welcome to the Edifi Podcast Network
The Edifi Podcast Network is a collection of transformational and faith-inspiring podcasts brought to you by Edifi, the world's most powerful Christian podcasting app. These original and partner shows from hosts and influencers cover an array of issues, including: parenting, politics, theology, media, and entertainment — all through the lens of faith. From Abby Johnson's "Politely Rude" to Jeff Kinley and Todd Hampson's "Prophecy Pros" and Rashawn Copeland's "No Turning Back," the shows are diverse, transformative, and entertaining.
If you're a podcaster or influencer looking to join the Edifi Podcast Network, we'd love to hear from you. And if you're simply looking for the most powerful podcasting content around, Edifi is here for you.
Abby Johnson
Planned Parenthood Director turned pro-LIFE advocate. CEO of And Then There Were None. Global Ambassador for COL1972. Best selling author and speaker.
Billy Hallowell
Journalist, commentator and digital TV host Billy Hallowell has covered thousands of the biggest faith and culture stories. He's written more than 12,000 articles on faith, culture and politics, has interviewed hundreds of celebrities, authors and influencers and is the author of three books…
Lee Ann Mancini
Lee Ann Mancini's desire is for children to begin to know and love Jesus from an early age. This passion led her to seek out books for her own children that portrayed an active relationship with Jesus in a relatable way. She knew communicating God's truth through captivating words and compelling illustrations is a crucial part of establishing that foundation.
Tina Nzuki
A Friend of God. Radio host. Communication Consultant. Platform builder.
Dr. Derwin Gray
Lead Pastor of Transformation Church. Best-selling Author of The Good Life, Former NFL Safety.
Dr. Michael Brown
Jewish believer in Jesus; author; radio host; speaker; husband; father; grandfather.
Tim Ferrara
Tim grew up in church and has been a leader in many ways which include serving as Elder and Chairman of the Board of Directors. He has a bachelor's degree in Marketing from Arizona State University along with an MBA from the University of Phoenix. He has had a career in business management for over 20 years.
Lucas Miles
Pastor, author, and filmmaker Lucas Miles draws on his 20-years of experience as he interviews top Christian influencers about walking in faith and experiencing the life of their dreams.
Todd Hampson
Founder of Timbuktoons, Author of The Non-Prophet's Guide™ Book Series.
Jeff Kinley
Best-selling author Jeff Kinley is passionate about communicating God's vintage truth to this generation. Following a tumultuous teenage experience, Jeff was led into a relationship with Jesus Christ, and everything changed.
Pure Flix
Positive Entertainment that Changes Lives, Inspires Hearts, and Lifts the Spirit.
Podcast Category:
All
News & Politics
Heart & Life Change
Leadership
Exploring Culture
Entertainment
Bible & Theology
Parenting
Christianity Around the Globe